We specialize in residential and commercial electrification, solar and HVAC system installations in the Bay Area.
Brands We Trust
Commitment to quality is the backbone of Got Watts.
As installers for some of the top quality brands in the United States, we take great care in choosing products with longevity and warranties to match.
We're certified installers for Tesla EV Chargers and QuietCool Whole House Fans. We're also excited to announce that we'll be partnering with SPAN to offer smart panels for homeowners to easily control and monitor their electrical panel from their smartphone.
Since this list is always growing for each of our departments, please do not hesitate to reach out with questions regarding if we carry a specific manufacturer.
Introducing the new Got Watts App!
Receive project update notifications

See all stages involved in your project

Refer Got Watts to friends and family

Track the referrals you make

Receive cash or gift cards for referrals
Start Earning Money with Referrals Today!
Available for download in these app stores: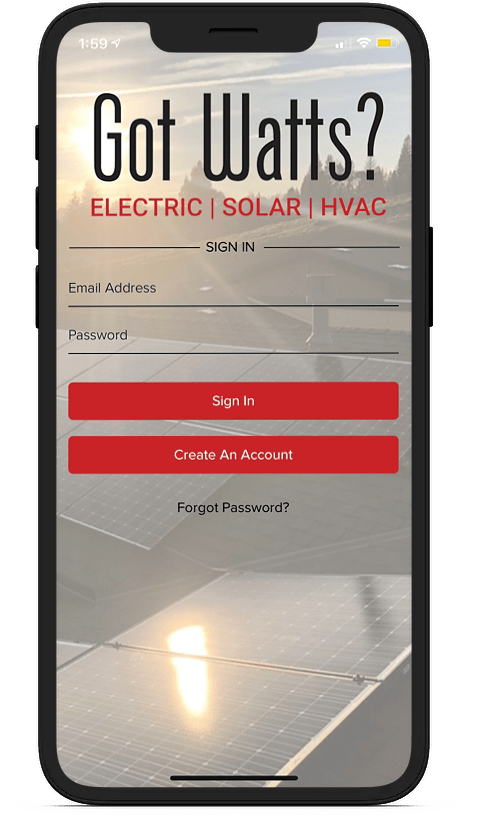 Recent Reviews
I recently had Got Watts install our new solar panels on our home and we had an energy upgrade. They provided excellent service. They were honest and worked with our families needs to provide the correct amount of solar panels for us now and in the future. I recommend them highly. Pat Toth-Smith
Review from Google
Just finished the entire process and couldn't be more pleased with Got Watts. Their professionalism and responsiveness were outstanding. Highly recommend.
Review from Google
Got Watts? Replaced our old gas heater with a new heat pump. Also redid our duct work as the old one didn't really transfer any air. The workmanship and communication were great. Highly recommend if looking to have HVAC done. Personal call outs - Eric who came out to do the initial consultation was really informative and always willing to fix things. The installation staff - Jedd, Ben, Lee, and LC all were efficient, answered all our questions, and did a great job on installation. Tina the admin was super responsive and was great at coordinating and communicating. Highly recommend the company!
Review from Google
Both Danny and Tyler worked very hard and almost got everything completed in 1 day (Scheduled for 2). Taking about 1.5 days for a full panel move and reinstall of a span panel, they were "Mr Hustle". Everyone was very professional, on time and very clean and tidy. Could not ask for a better experience.
Review from Google
Working with Gott Watts was one of the best decisions we have made since purchasing our house and deciding to add solar and a battery system. Every person we have worked with at the company has been so knowledgeable and provided exceptional customer service. Good communication is something that is hard to find in a company these days, and the Gott Watts team has been so communicative during this whole project. I knew when they were comming to do work, had timely follow up and confirmations when work was going to be happening. They were agile and accommodated to our needs since my husband and I both have busy work schedules. We elected to do some additional inside electrical work, and Got Watts scheduled that and had great competative pricing. I cant speak highly enough of the whole crew. A big thank you to the whole team. Lindsey, Mallory, Sam for all of the coordiantion and paperwork. Daniel, Brian, and Taylor for the electrical work and system install. The rooftop crew for the work done to get the posts drilled, conduit run and panels set. Marc for making sure the system was ready for inspection and for the time he took to get it running and teaching us the system ins and outs. We plan on using Got Watts for any Electrical, Solar and HVAC projects from now on.
Review from Google